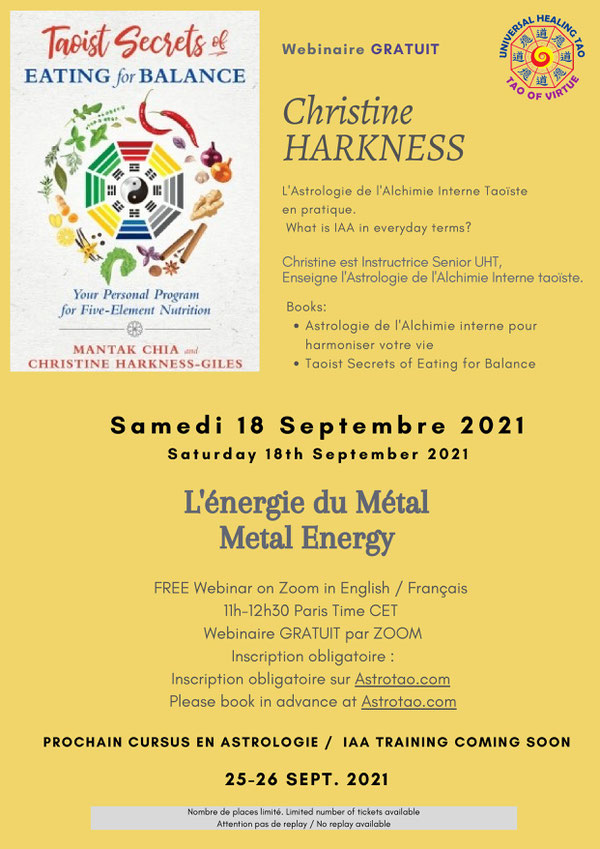 Calendrier Formation Astrologie 2022 :
stages en distanciel par zoom bilingues anglais/français
 DATES à confirmer à partir de Mars 2022

Niveau 1 : 2 jours
11h - 13h30 Pause 15h - 17h30
+ 1 Atelier de travaux pratiques ensuite (date à définir)
Niveau 2 : 2 jours

Niveau 3 : 4 jours :

Participation par personne  2021 :

 
Session de 2 jours : 290€ 

Session de 4 jours : 540€  (inscription simultanée à 2 niveaux, ou niveau 3)

Session de 8 jours, Séminaire Astrologie de l'Alchimie interne : 995€  (inscription simultanée pour les 3 niveaux)
Le tarif est 290€ pour Niveau 1 ou Niveau 2.  Niveau 3 : 995€
Renseignements et inscriptions : astrotao.com
A Life in Balance - The Five Elements
The five elements and the yin and yang are the building blocks of the Universe and are at the heart of understanding Taoism.  Deepen your understanding of Taoism and apply Inner Alchemy practices to yourself more accurately by looking at your own 5-element make-up.  Look at the energy you were born with and the energy cycles you are in at this moment with Inner Alchemy Astrology.  Understand and learn from past events and choices, visualise in-coming energies and prepare for future choices.
Master Chia has spent much time setting up this Taoist Astrology (Chinese Astrology) programme so you can understand your birth energies in terms of the five elements.  Dynamic energy cycles bring different forces into your life over the years too. 2018 is Yang Earth Dog year. (Yang earth is heaven energy, Dog is earth energy) What does that mean for you? 2019 will be Yin Earth Boar…how will that affect you? 
Trace the changes, take advantage of the opportunities, work on the negatives, enhance the positives.
Master Chia has put this special 4-day programme together to help you balance the elements, by adapting the inner alchemy practices, particularly the Fusion Meditations, as efficiently and personally as possible.
Monday workshop: The Essence and Magic of the Elements
What ARE the 5 elements?  They are 5 energies which have been referred to in Chinese as '5 energies which act like 5 elements' for over 5000 years, this term is usually shortened to '5 elements'.  As they are energies, these elements forge our character and the way we live.  Taoist inner alchemy practices and body-work treatments are based on harmonising these elements within us to transform our negative energies into vitality and heal our minds and bodies.
Discover:
·    Your own 5 elements make-up:  see who you are and why? your strengths and weaknesses, highs and lows.  Mantak Chia has spent 40 years developing his own Inner Alchemy Astrology programme, traditional Chinese Astrology calculations with easy interpretation
·    What the elements mean:  and learn some meditations and chi kung to enhance them specifically. 
·    Understand how the 5 elements affect our body: and learn helpful techniques related specifically to our major organ and body systems and particularly to our sympathetic and parasympathetic systems.
Using the link below, you will be able to print your Astrological Internal Alchemy Chart and bring it to the workshop.
Formation diplômante en Astrologie de l'Alchimie Interne (IAA) :
Les pratiques taoïstes sont basées sur les 5 éléments ; l'IAA est un excellent guide pour comprendre vos énergies des 5 éléments. En tant qu'instructeur UHT ou praticien du Chi Nei Tsang, vous pouvez ajouter la certification en Astrologie de l'Alchimie Interne à votre profil UHT et l'utiliser comme un outil avec vos étudiants lorsque vous êtes certifié(e).
Cursus de certification en IAA :
Il y a 3 niveaux - 8 jours de formation - 20 études de cas et un bref examen. En tant que stagiaire ayant suivi le niveau 3 et une fois certifié, vous pouvez acheter les cartes complètes de l'IAA au prix de 5€ et les utiliser avec vos étudiants.
Niveau 1 - Apprendre à utiliser la carte natale gratuite de l'IAA et à appliquer les techniques d'harmonisation 
2 jours : 9 heures de théorie et 5 heures de pratique supervisée
Niveau 2 - Approfondir la connaissance du thème natal et commencer à utiliser la nutrition selon les 5 éléments.
2 jours : 9 heures de théorie et 5 heures de pratique supervisée
Niveau 3 - Techniques complètes d'interprétation de la carte natale, y compris les cycles de chance de 10 ans - temps passés et futurs.
4 jours - 18 heures de théorie et 10 heures de pratique
Total : 8 jours (36 heures de théorie et 20 heures de pratique)
Processus de certification : Compléter les 3 niveaux, 20 études de cas soumises à l'examinateur, courte lecture orale d'une carte natale entretien avec l'examinateur à distance par skype/zoom.
Le programme de l'IAA comprend : la signification approfondie des 5 éléments, les cycles de 5 éléments, le yin et le yang, les animaux du zodiaque chinois, l'analyse des éléments des organes, l'application des pratiques UHT pour harmoniser les éléments, la compatibilité pour les domaines de la vie comme la carrière, l'amour, etc. 
IAA Certification:
Taoist Practices are based on the 5 Elements; IAA is a great guide to understanding your 5 element energies. As a UHT instructor or Chi Nei Tsang practitioner you can add Inner Alchemy Astrology Certification
to your UHT profile and use it as a tool with your students when you pass the certification.
How to Certify:
There are 3 Levels - 8 days training - 20 Case studies and a short exam. As a Level 3 trainee and when certified, you can buy the IAA complete charts at 5€ and use them with your students.
Level 1 – Learn to use the basic free IAA chart and apply harmonising techniques  
2 days: 9 hours theory & 5 hours supervised practice
Level 2 – Deepen knowledge of the natal chart and start to use 5-Element Nutrition.
2 days: 9 hours theory & 5 hours supervised practice
Level 3 – Full chart interpretation techniques, including the 10-year luck cycles - future and past times.
4 days – 18 hours theory & 10 hours practice
Total: 8 days (36 hours theory and 20 hours practice)
Certification process: Completing the 3 levels, 20 Case studies submitted to examiner, short oral chart reading by skype/zoom.
The IAA curriculum includes: deeper meaning of the 5 elements, the 5-element cycles, yin & yang, the 'Animals', organ element analysis, applying UHT practices to harmonise elements, compatibility for careers and love. Etc.