Mantak Chia sera à Londres en Octobre 2021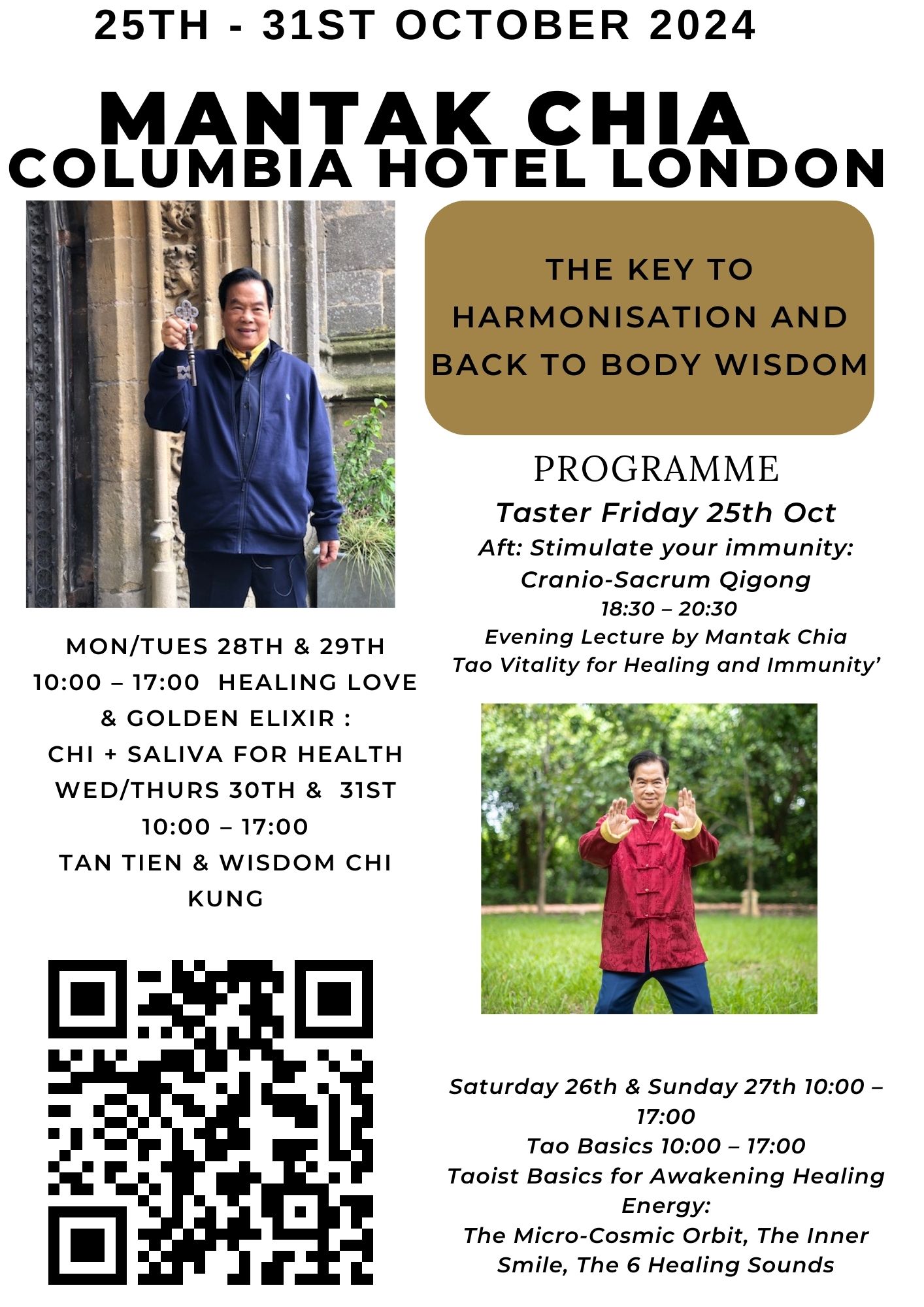 Tao Arts Ltd are pleased to present Master Chia's workshop devoted devoted to major basic practices.
If you are not on our new Mantak Chia London newsletter already, you can sign up for 4/5 newsletters a year and a reminder that enrolments have opened, at: http://eepurl.com/dvZCif
Friday 18th October 2019
10:30 – 17:30 Demonstrations, talks and mini classes given by local Tao instructors. Lunch break 13:00 – 14:00.
£5 for the day
19:00 – 21:00 Evening lecture with Mantak Chia - £20/25
Saturday 19th & Sunday 20th 0ctober - £260*
10:00 – 17:30 Taoist basic practices: Inner Smile, 6 Healing Sounds & Micro-Cosmic Orbit
Monday 21st  & Tuesday 22nd 0ctober - £260*
10:00 – 17:30 Healing Love and Tao Yin. 
Wednesday 23rd & Thursday 24th October - £260*
10:00 – 17:30 Tendon Nei Kung (Iron Shirt 2) and Cosmic Eye Exercises
Tao Arts Ltd were thrilled to present Master Chia's innovating workshop devoted to the 5 Elements last year in London, and this Year we will continue using WOOD Element in a Tendon/Eye Special 2-day workshop.
The workshops are suitable for students of all levels. However, we recommend you attend the Basics weekend before taking the other classes. Master Chia personally leads meditations, demonstrates Chi Kung and corrects students.
* 10% concessions reduction for full-time students and job-seekers.
Special Price for full 6-days workshops Saturday - Thursday  (10% concessions)
For more information on courses, costs, and to secure your place:
T: 07938 898568
Grand Master MANTAK CHIA   -  LONDON 
5th - 11th October 2018
Columbia Hotel 95 Lancaster Gate
London W2 3NS 
Mantak Chia in London 18 – 24 October 2019

Dear Taoist Friend,

Mantak Chia will be back in London 18th – 24th October 2019 at his preferred venue:

The Columbia Hotel
95 – 99 Lancaster Gate
London
W2 3NS

Details can be found at mantakchialondon.com
 
The programme:
Fri, 18 October 10:30 -17:30 (£5 for the day)
Demonstrations, talks and mini classes by local Tao Instructors

Fri, 18 October 19:00 – 21:00  (£25/£20)
Evening lecture with Mantak Chia
"Back to Body Wisdom – Chi for all parts of Body & Mind"

Sat 19 &Sun 20 October 10:00 – 17:30  (£260*)
Back to Body Wisdom: Inner Alchemy Taoist Basic Practices:
Inner Smile, 6 Healing Sounds and Microcosmic Orbit

Mon 21 & Tue 22 October 10:00 – 17:30 (£260*)
Healing Love Energy and Tao Yin:
Sexual Alchemy & Grounding for our Inner Core

Wed 23 & Thu 24 October 10:00 – 17:30 (£260*)
Tendon Nei Kung and Cosmic Eye exercises –
Use Wood energy to improve your tendon strength and eyesight.

*Denotes an available 10% concessions reduction: for full time students and job seekers.
All 6 days of workshops 19th– 24th  £710 (*£639  concession price)

Enrolments will open in July.  If you have already studied one of those subjects with Master Chia in London or Paris in the last 5 years, (or provide UHT Passport) let us know when you took the class and we will send you a 20% reduction code.

If you are not on our new Mantak Chia London newsletter already, you can sign up for 4/5 newsletters a year and a reminder that enrolments have opened, at: http://eepurl.com/dvZCif

Looking forward to seeing you there!

The London Team